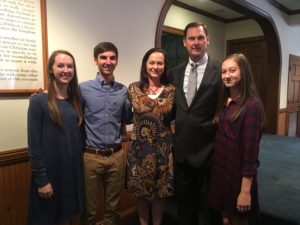 The current pastor at Sanford Missionary Baptist Church is Elder Joe Lott. Brother Joe is married to Tammy Lott and they have three wonderful children – Lauren, Cade and Christa. A graduate of Sumrall high school, Brother Joe surrendered to preach while attending the University of Southern Mississippi. He began pastoring and was ordained into the full work of the ministry in 1991. He began pastoring at Sanford in the Spring of 2014.
Message from Brother Joe:
"I was saved in my early teenage years and felt God's call to preach just prior to graduating high school, but did not fully surrender to the ministry until a few years later. God has greatly blessed us to be involved in full time ministry and pastoring since 1991. My ministry has taken our family from south MS to LA and back to MS. I have been pastoring in the Covington County area since 2002.
It has been a glorious journey that only God could have planned and brought to pass.
My favorite verse: "As ye have therefore received Jesus Christ the Lord, so walk ye in him" (Colossians 2:6)
Life's Goal: To magnify Christ through the preaching and teaching of God's Word and through a live lived in submission to the leadership of the Holy Spirit."