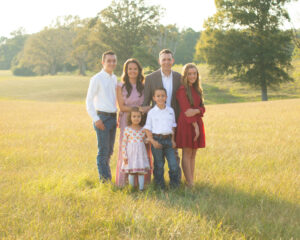 The current pastor at Sanford Missionary Baptist Church is Elder Clay Williamson. Brother Clay is married to Devin Williamson and they have four wonderful children – Aiden, Rowyn, Guage and Maryn. A graduate of Sumrall high school and the University of Southern Mississippi, Brother Clay surrendered to preach while selling CAT equipment for Puckett Rents of Hattiesburg. He began pastoring and was ordained into the full work of the ministry in 2015. He began pastoring at Sanford in the Spring of 2023.
Message from Brother Clay:
"I was saved at 28 years old and surrendered to the call to preach when I was 33. I have been involved in ministry and pastoring full-time since 2015 in the Covington/Jones county area. God has blessed us beyond measure! It has been a wonderful journey thus far.
My favorite verse is (John 14:6) "Jesus saith unto him, I am the way, the truth, and the life: no man cometh unto the Father, but by me."
Life's goal: To be a modern-day John the Baptist and point people to Jesus. Jesus is the only hope and help for humanity."